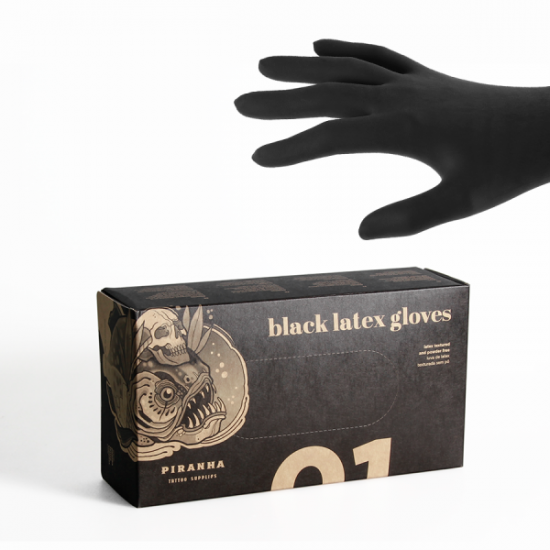 Piranha Latex Black gloves are one of the most popular brands on the market.
Manufactured since 2007, they were designed exclusively for the tattoo industry,
but quickly reached all kinds of users and labor markets
due to the high quality and consistency of the product.
The 240 micros of natural latex give it high protection and resistance.
Ideal for long periods of use (tattoos for example).
The texture on the fingers allows for firmness and precision
when handling the equipment.
Designed for demanding users are extremely comfortable and sensitive.
Box of 100 units.
•Size: XS, S, M and L
•Maximum comfort and elasticity
•Textured with grip
•240 micros of high quality latex
•Dust-free
•Natural rubber
•Black colour
•CE Certification
•For procedures involving direct contact with petroleum compounds, use Nitril gloves
•For those allergic to natural rubber (latex) we recommend the use of Soft Nitril Piranha
•Indicated for all kinds of industries such as tattooing, aesthetics, automotive mechanics, repairs, cleaning, home use, etc...
Piranha Latex Black Gloves
PIRANHA
Reset options